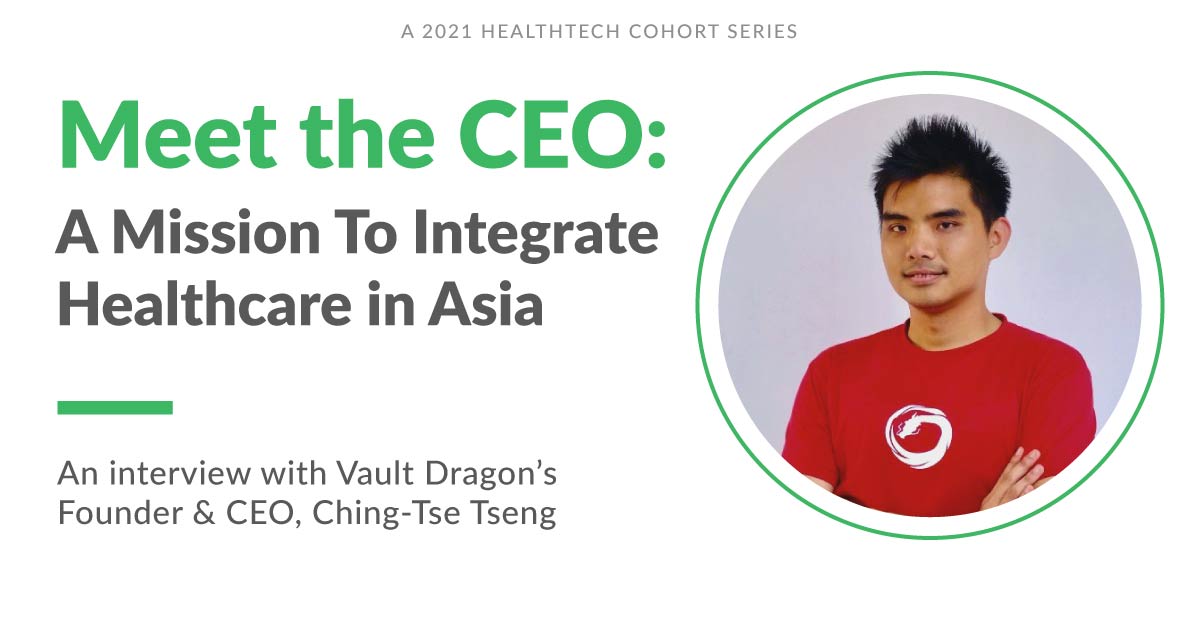 Vault Dragon began as a startup offering logistics technology solutions in 2013. It's only when they began receiving many requests for storage solutions from clinics for their medical records that the young startup made its first pivot to healthcare in 2015.
As they helped Singapore clinics take their first steps towards digitisation – scanning and storing their medical records – Vault Dragon's first electronic medical records (EMR) software began taking shape. Over the years, the Singapore-based startup's software suite has expanded to include clinic management and hospital information systems and a patient app. The company has also scaled its presence to four more countries in the region.
Pioneering Healthcare's Transformation in Asia
During his time studying business in America, Ching-Tse Tseng was exposed to the HealthTech trends fast catching up in the West. As the founder-CEO of Vault Dragon, he realised that healthcare institutions closer home were barely scratching the surface of HealthTech's potential.
"A lot of the cool things that can be done in the US to improve the quality of care and empower patient-centric healthcare delivery are not yet possible in Southeast Asia," notes Ching. That's because most clinics and hospitals in the region still don't use a digital system and have predominantly paper medical records. "Those that have turned digital are usually on a local system with no connectivity to the outside world," adds Ching.
The team realised that equipping healthcare groups with digital solutions wouldn't accelerate their digital transformation journey fast enough. Besides, stakeholders using various systems restricts seamless data integration, which further inhibits data-driven healthcare from becoming a reality. "There's very little interoperability between healthcare systems, and our partners are craving that connectivity," says Ching. "That's one of the biggest issues we are excited about solving, and we realised it might just be faster to connect them with or without Vault Dragon's suite of products," he adds.
Empowering Healthcare With Data
The young entrepreneur believes it's the right time for a common backend standard to power the region's healthcare ecosystem. Ching proudly shares that the company has been working on a data solution in stealth mode for three years. With Google's Android as an example, Ching illustrates, "The hardware can be different, but they are all on some version of the Android OS with minor tweaks. So we're working on something open source that's ready-to-use and allows endpoints to connect."
The data infrastructure Vault Dragon is building is compliant with the HL7 FHIR standards. "Not just because it's commonly used in the West but also because it's one of the few standards that allows API end-point integration," explains Ching. In addition to its software suite, the company now boasts a data team that supports healthcare partners with connectivity, business intelligence visualisation, data warehouse management and building data pipelines.
Growing With Customers
Keeping their eyes on the market and ears on customers' needs has defined most of Vault Dragon's trajectory. Instead of a SaaS company, Vault Dragon considers itself as a digital health solutions provider. "We sit down with our customers. We look at their processes and technology, share best practices from the other markets where we operate, and together come up with a solution that meets their business objectives not just in the short term but also in the long term," says Ching.
Like their first pivot, Vault Dragon's clients' needs have shaped the company's offerings. In addition to considering market fit, Vault Dragon introduces new features and products when the team notes multiple clients or markets demanding similar solutions. "Growing together with our clients makes us a stronger partner," says Ching. "They are sure that whatever they conjure up, we have the technical capability to develop it, and for us, it eventually becomes a part of our proprietary software," he adds.
Leading With a Mission
Even before he knew he would be an entrepreneur, Ching had the first inkling of connected healthcare at 13. When his mother was diagnosed with breast cancer, the doctor couldn't ascertain the stage and recommended a second opinion that required the family to re-experience preliminary examinations and tests. "I remember thinking if the system was connected and different doctors could access the same records, then the patient and family won't have to go through the anxiety and uncertainty repeatedly. Not to mention the delay in treatment," recollects Ching.
The rest of the team is similarly aligned to the mission of connected healthcare in Asia to power data-driven healthcare. It's one of the reasons Ching felt like a misfit in the corporate world and aspired to be an entrepreneur. "I wanted to build an environment where everyone is collaborative and working towards a central vision instead of trying to grease their way up the corporate ladder," he says. Before Vault Dragon, Ching hopped between consulting jobs and founding two startups. "While those experiences brought many learnings, working in the corporate world assured me that I could not work for other people. After some time, I tend to question the processes and feel like I can't create much impact," adds Ching.
Day in the Life of a Young Entrepreneur
Of course, founding and running a startup is not without its challenges. "No one said it would be easy, but no one said it would be this hard," says Ching, borrowing a lyric from a popular Coldplay song to define an entrepreneur's life. Over his journey, Ching has felt the lack of guided direction and a mentor the most. "I am lucky to have many people that give me advice, but I don't have a formal mentor that can guide me through this process. For example, what to do at each stage of growth, what's normal and what's not," he notes.
Entrepreneurs need mentors not just for personal growth but to take the company ahead, believes Ching. "I have realised that how fast the company can grow rests on my personal growth capacity. It would save the company a lot more money and time if there was a mentor or sounding board," he explains. Learning from one's mistakes may be a classic mantra for success but entrepreneurs, with entire teams depending on them, don't always enjoy the luxury of trial and error. "Mistakes can turn into great lessons but they cost the company and I cannot be selfish," confesses the young founder.
A good story helps Ching get through the difficult times and he swears by The Hard Thing About Hard Things by Ben Horowitz. "He gives advice from his own journey, taking examples of challenges and how he solved them. It's kind of inward-looking but also gives the brutal truth about being in a startup," says Ching. "If you're a CEO or founder, this book will definitely resonate with you."
Expanding Horizons With the Galen Growth HealthTech Cohort
Through the course of building Vault Dragon, Ching has experienced in real life Aristotle's famous words – 'the more you know, the more you realize you don't know'. "We have learnt a lot over the years, but I think because of that we understand we know nothing," reflects Ching.
While the startup has become a reliable digital solutions partner to a number of medical providers in the region, the growth has only made them more aware of the healthcare ecosystem's vastness. "Right now we're well versed with the provider side but to bring everyone into this connected healthcare ecosystem, we have limited understanding on how we can add value to insurance and pharma, companies, research firms and labs," explains Ching.
That's where Ching believes platforms like the Galen Growth HealthTech Cohort can help startups. "We are optimistic about the guidance, connections, exposure and network that the HealthTech Cohort can offer," says Ching. "I believe that will really allow us to go to that next stage of growth, to manifest our destiny of building a truly connected healthcare ecosystem in this part of the world," he says before signing off.
Find Vault Dragon on HealthTech Alpha
About Galen Growth's 2021 HealthTech Cohort
Vault Dragon is part of the Galen Growth 2021 HealthTech Cohort, the only acceleration programme built to scale digital health startups to be the next generation powering healthcare innovation across the globe. For more information, visit Galen Growth's HealthTech Cohort webpage or read this article on the launch of the Galen Growth's 2021 HealthTech Cohort.